Hey Badgers,
One of the frequent questions I get from people when I take them on tours is about the bussing system. Many people assume that bussing is super inconvenient and they would rather drive to school.
For me, I had never been on public transit before I came to Brock. In high school I had the privilege of being driven to school everyday. I would always feel relieved when comparing myself to my friends who had to take the bus home because I thought it would be so difficult!
Now that public transit is really my only means of transportation, I have no problem with it. I mean, even if I didn't like bussing there is not really much I could do. BUT HEY, just trying to look on the bright side here 🙂
Bussing at Brock is made really easy because all the busses meet in the same place. Depending on the bus you need to take, most busses will run every half hour, if not more frequently.
This schedule gives information about all the bus times for different areas around St.Catharines and Thorold. Or you can even download the St.Catharines Transit App which tracks your bus and gives an update about when exactly it will arrive at your bus stop.
The busses travel to different areas around St.Catharines, Thorold, Niagara Falls and Welland.
There are a few upsides to using public transit. The first is that you don't have to pay for it, it's included in your tuition. Therefore, instead of paying for a car, gas, insurance and parking-the bus will rid you of any of those expenses. As well, driving means you'll probably have to park somewhere that is not 2 minutes from your class. You may be lucky enough to snag a spot in the closer parking lot, but if not you'll have to come early enough to be able to walk from Zone 2 (parking lot) to your class.
Lucky enough the weather hasn't been like this: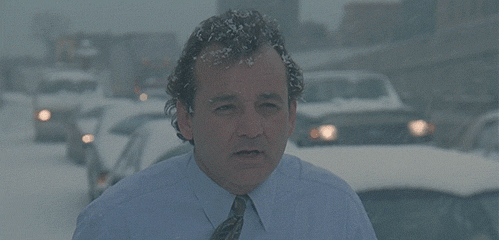 But if you bus you wont have to worry about this at all!