Hey everyone!
As you all may be aware, whether touring at Brock or talking to fellow students at Brock, it is a school that provides. Whatever the need is, here at Brock, there is always someone to help or direct you to the right resources. One of my favourite things about Brock is that they recognize not everyone is confident in their abilities. When I first got accepted to Brock I was a little bit nervous and not very confident that I would pass the first semester, let alone year.
But like I said, Brock always provides the right resources and people to help you in any area that you struggle in. After starting my first week at university I knew I would not be able to move on without the help of friends, professors, teachers assistants and other resources. I heard about different sessions that the A-Z learning centre provides and so I thought I would give it a try! I attended a session called something like "How to combat procrastination", Because we all know this is our favourite thing to do, even after only 10 minutes of doing work: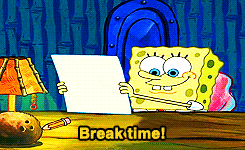 The session was informative and we were given tips for combatting procrastination and learning how to stay more organized! Brock has many different sessions that you can take part in that can help you with various struggles you may have when starting university and throughout the rest of your university career. The workshops include but are not limited to: how to write an essay, how to use APA format, exam de-stressing, persuasive essay writing, succeed in mathematics, improving your writing, grammar 101, and many many more.
Now don't get me wrong, I still struggle. And there are definitely still times where I feel confused and don't really know how to complete an assignment. But I always rest assured knowing that there will be help if I look for it! And it won't look like this:
Rather, people are always willing and excited to help you out with whatever it is!
Whether you're a genius or you doubt you'll even past first semester, there is always something for everyone. So be sure to check out the different sessions and resources that are available to you at Brock!